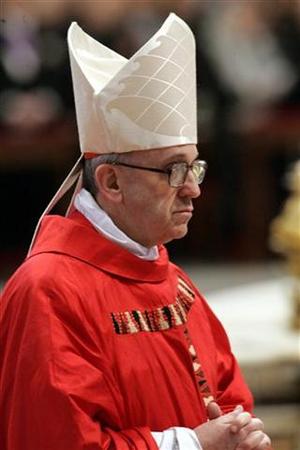 The following article on Cardinal Jorge Bergoglio, SJ, today elected Pope Francis, is taken from Traces, (June 2001) the monthly magazine of Communion and Liberation.
At the Buenos Aires International Book Fair, the largest in South America, the Argentinian Primate presented the Spanish edition of L'attrattiva Gesù [The Attraction that is Jesus]. "The locus of the encounter is the caress of the mercy of Jesus Christ on my sin"
By Silvina Premat
The Archbishop of Buenos Aires, recently named Cardinal, Jorge Mario Bergoglio, presented El atractivo de Jesucristo, published by Encuentro, at the International Book Fair in Buenos Aires which was entitled, "The Book, from the Author to the Reader." The book exhibition is the largest in Latin America. For twenty days, a million people visit the 25,000 square meters of stands set up by more than 1,300 exhibitors (publishing houses, bookstores, foundations, embassies, and regions). They seek to know an internationally famous writer, hear a lecture on a topical theme, or find an interesting offer.