The Church needs reform, as always, a personal conversion. Turning to Jesus Christ is an act of freedom. What baggage do we have that would prevent change, or hinder me from confessing and living differently as a Christian? Reform starts not with institutional works, but with oneself. Governance is not the only issue that we have to be vigilant of with this new papacy; conversion of life starts locally and spreads. As Francis said yesterday in his first Mass as the Bishop of Rome, we need to walk, to build, to confess with, for and by each and every person so that we see the glory of God. We need to untie the knots that were spoken of by Saint Ireneaus. All this talk of reform includes the Curia, it is not business as usual. The Pope will remind us and lead us by his own life. He now holds office as the Vicar of Christ. He has suffered much close to To that end, today Pope Francis spoke to the gathered cardinals in the Sala Clementina. His address follows.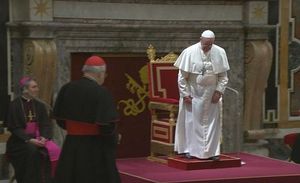 This period of the Conclave has been filled with meaning not just for the College of Cardinals but also for all the faithful. During these days we have felt almost palpably the affection and solidarity of the universal Church, as well as the attention of many people who, even if not sharing our faith, look upon the Church and the Holy See with respect and admiration.
From every corner of the earth a heart-felt chorus of prayer was raised by Christian peoples for the new Pope, and my first encounter with the crowds filling St. Peter's Square was an emotional one. With that eloquent image of a praying and joyful populace still fixed in my mind, I would like to manifest my sincere gratitude to the Bishops, priests, consecrated persons, young people, families, and to the aged for their spiritual closeness which is so touching and sincere.