La Civiltà
Cattolica, the academic
periodical edited by the Society of Jesus but vetted by the Secretary of State
of His Holiness, will publish Bishop Juan Ignacio Arrieta's essay, "The Influence
of Cardinal Ratzinger in the Revision of the Canonical Criminal Justice System."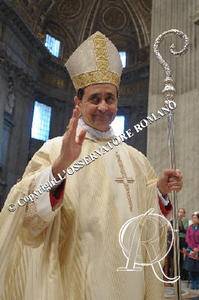 Bishop Juan Ignacio Arrieta Ochoa de Chinchetru, 59, is Spanish, ordained for the Prelature of the Holy Cross. Arrieta earned a doctorate in civil and canon law and served as Dead of the Faculty of Canon Law at the Pontifical University of the Holy Cross. (Rome) Moreover, he was Dean of the Institute of Canon Law of Saint Pius X (Venice). At the service of the Church, Arrieta was a canon prelate of the Apostolic Penitentiary and legal secretary of the Supreme Tribunal of the Apostolic Signatura. Since 2007, he's been the Secretary of the Pontifical Council for Legislative Texts and ordained bishop in 2008.
In the coming
weeks, the Pontifical Council for Legislative Texts will distribute to its
Members and Consultors the draft of a document containing suggestions for the
revision of Book VI of the Code of Canon Law, the basis of the Church's penal
law system. For almost two years a commission of experts in penal law has been
re-examining the text promulgated in 1983, taking into account the needs that
have emerged in subsequent years. The aim is to maintain the general plan and
the existing numbering of the canons, while revising some of the decisions
taken at the time, which with hindsight can be seen to be insufficient.