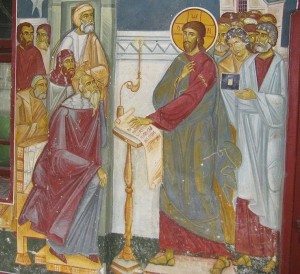 The Church gives us the reading for Gospel today the narrative of Jesus teaching in the synagogue for the 3rd Sunday of Ordinary Time.
Origen teaches: "When you read about Jesus teaching in the synagogues of Galilee and everyone there praising him, take care not to regard those people as uniquely privileged, and yourselves as deprived of his teaching…. Throughout the world Jesus looks for instruments through which he can continue his teaching."
This is a crucial point: the mission of Jesus required human participation when walked as we do today. We are His instruments of preaching and teaching and doing good works. Origen pinpoints the contemporaneous nature of the Lord teaching the Good News. As Jesus speaks to the Synagogue teachers he speaks to me right now.