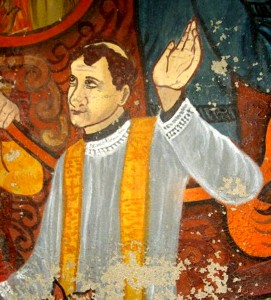 This morning during a meeting with the Prefect of the Congregation for Saints Cardinal Amato, the Holy Father announced his intention to convene a consistory for the canonization of Blessed Joseph Vaz of the Oratory.
Blessed Joseph Vaz, CO, (Konkani: Bhoktivont Zuze Vaz, Sinhala: Bhagyawantha Jose Vaz Piyathuma) (21 April 1651, Benaulim – 16 January 1711, Kandy) was a Oratorian priest and missionary from Goa. The Oratorians are the spiritual heirs of Saint Philip Neri.
Joseph Vaz entered Ceylon (now Sri Lanka) during the Dutch occupation at a time when Calvinism was the official religion. Vaz travelled throughout the island bringing the Holy Eucharist and the sacraments to clandestine groups of Catholics. His missionary heart led him to find shelter in the Kingdom of Kandy where he was able to work freely because of political difficulties. By the time of his death, Vaz had managed to rebuild the Catholic Church on the island. As a result of his labors, Vaz is known as the Apostle of Ceylon.
On 21 January 1995, Father Joseph Vaz was beatified by Saint John Paul II in Colombo.