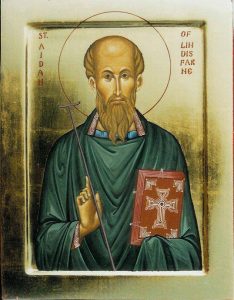 I doubt many people know much about Saint Aidan except surface level stuff. The name "Aidan" is a beautiful name and it carries with it the beauty of the best of Catholicism in Ireland and parts of England and Wales. Saint Aidan was seeking someone great –he was truly seeking God. This seeking is the principle, the grammar by which we truly live the Faith.
"Monastic founder, bishop, and miracle worker known for his kindness to animals. Known as Edan, Modoc, and Maedoc in some records, Saint Aidan was born in Connaught, Ireland. His birth was heralded by signs and omens, and he showed evidence of piety as a small child. Educated at Leinster, Saint Aidan went to Saint David monastery in Wales. He remained there for several years, studying Scriptures, and his presence saved Saint David from disaster. Saxon war parties attacked the monastery during Saint Aidan's stay, and he repelled them miraculously. In time, Saint Aidan returned to Ireland, founding a monastery in Ferns, in Wexford. He became the bishop of the region as well. His miracles brought many to the Church. Saint Aidan is represented in religious art with a stag. He made a beautiful stag invisible to save it from hounds."
Saint Aidan, pray for Us!