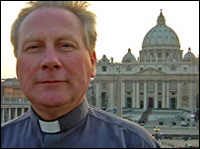 These early days of 2011 are shaping up to be an interfaith challenge with all sorts of messages, clarifications and critiques of current events between Christians and Muslims. The latest, noted here, is a statement given by the Pope's ambassador, the Apostolic Nunccio to Egypt, Archbishop Michael L. Fiztgerald, M. Afr. The Nuncio,73, is a former head of the Pontifical Council for Interreligious Dialogue. The statement was given in response to a request of the Coptic Orthodox Patriarchate clarifying the Pope's January 2nd statement against the attacks against the Coptic faithful.
The statement of His
Holiness Pope Benedict XVI with regard to the tragic attack on the Church of
the Saints in Alexandria has met with some criticism. It may therefore be
helpful to give an account of what the Pope actually said and of his recent
teaching on the way to peace.