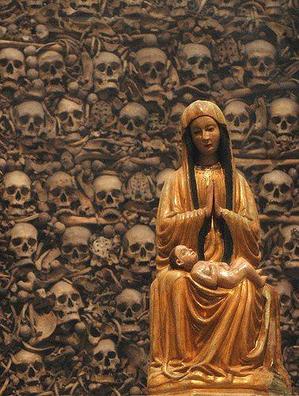 Today the Church has 802 new saints, 800 of them are the martyrs of Otranto. This group of canonized were martyrs while you may say that Laura Montoya (aka, Lupita) and Maria Guadalupe García Zavala were "ordinary saints." These are the first canonizations done by Pope Francis.
What catches our eyes that in one swoop 800 are recognized as martyr saints. Their history tells us that Ottoman soldiers invaded a Christian village town in 1480; the villagers were killed for refusing to convert to Islam, in fact, beheaded because they refused to renounce their Catholic faith.
The wall of skulls of the martyrs of Oltranto (note the picture) displayed prominently in Otranto Cathedral (Apulia region of Italy). These are the human remains, the relics of holy men and women; our new intercessors before the throne of Grace.
The year was 1480 and the fateful day when a fleet of 70 to 200 Ottoman Turks ships reached the city of Otranto, then part of the Kingdom of Naples. The Turkish forces were led by Gedik Ahmed Pasha.
July 28 marks the beginning of the Ottoman wars (1453-1683) in Europe; Mohammed II had invader and conquered Constantinople just 28 years earlier. On August 12, 800 people of Otranto, Antonio Primaldo and his companions were taken to the hill of Minerva, now called the Hill of the Martyrs, and slaughtered for being faithful to Jesus Christ and His Church.
The Church's precess of investigating the circumstances and holiness of these people began in 1539 and end on 14 December 1771 with the beatification of the people of Oranto by Pope Clement XIV. Benedict XVI issued a decree on 6 July 2007, stating that out of hatred for the faith these Catholics were killed. Therefore, certifying that martyrdom happened and therefore saints.
The Pope homily is here:
In this seventh Sunday of Easter we are gathered to celebrate with joy a feast of holiness. Thanks be to God who has made His glory – the glory of Love – to shine on the Martyrs of Otranto, on Mother Laura Montoya and María Guadalupe García Zavala. I greet all of you who have come to this celebration – from Italy, Colombia, Mexico, from other countries – and I thank you! Let us look on the new saints in the light of the Word of God proclaimed: a Word that invited us to be faithful to Christ, even unto martyrdom; a word that recalled to us the urgency and the beauty of bringing Christ and his Gospel to everyone; a word that spoke to us about the witness of charity, without which even martyrdom and mission lose their Christian savor.