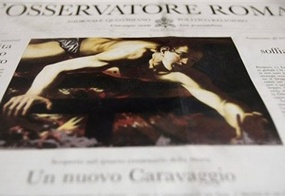 The art world is abuzz due to an article in L'Osservatore Romano on Sunday stating that a "lost Caravaggio" may now be found.
The as yet unauthenticated painting, "The Martyrdom of St Lawrence," owned by the Society of Jesus, is thought to be a Caravaggio because it has the hallmarks of a Caravaggio, including dramatic lighting effects, the L'Osservatore Romano said. "Certainly it's a stylistically impeccable, beautiful painting," the article stated in its Sunday edition. "One can't but be reminded of works like the Conversion of St Paul, the Martyrdom of St Matthew and Judith and Holofernes."
Michelangelo Merisi da Caravaggio is the acknowledged pioneer of the Baroque painting technique of contrasting light and dark known in Italian as "chiaroscuro." It is estimated that about 80 of the painter's works are extant. He was born in Milan and trained there under Titian. Many are also aware of the artist's wild lifestyle and the alleged murder he committed of a man in a brawl and then fled Rome. Moreover, Caravaggio's mysterious death in 1610 has long intrigued scholars. Among the theories of his disappearance are that he was killed on a deserted Tuscan beach or collapsed there due to an illness. Italian anthropologists announced last month they had found the famous artist's mortal remains. The artist's club is observing the 400th anniversary of the artist's death.
Leave it to the Jesuits to have at least two Caravaggio's!