Today in Rome, the Holy Father appointed Spanish Cardinal Antonio Cañizares Llovera,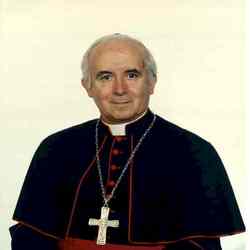 63, the prefect of the Congregation for Divine Worship and the Discipline of the Sacraments. He replaces Cardinal Francis Arinze.
Cardinal Cañizares Llovera was born in Valencia, ordained a priest in 1970 and has served as bishop in Avila, Granada and Toledo. As Archbishop of Toledo he was Primate of Spain, a diocese in that country that goes back to the 4th century. In 2006 Pope Benedict created him a cardinal and assigned him the Church of San Pancrazio.
The cardinal holds an earned doctorate in theology, specializing in catechesis from the Pontifical University of Salamanca. He's spent time in the classroom, in administration and was an editor and author. For 7 years Cañizares Llovera was the head of the Spanish bishops' office of doctrine. He serves the Holy See as a member of the Congregation for the Doctrine of the Faith and the Pontifical Commission Ecclesia Dei.