The group of bishops and experts who oversee the translation and promulgation of liturgical texts in English met in Rome this past week. Read the CNS story on the meeting by Cindy Wooden. Here is the press release.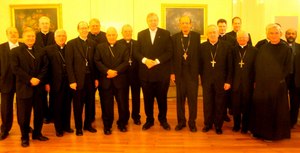 The Vox Clara
Committee met from July 24-26 in Rome. This Committee of senior Bishops from
Episcopal Conferences throughout the English-speaking world was formed by the
Congregation for Divine Worship and the Discipline of the Sacraments on July
19, 2001 in order to provide advice to the Holy See concerning English-language
liturgical books and to strengthen effective cooperation with the Conferences
of Bishops in this regard.