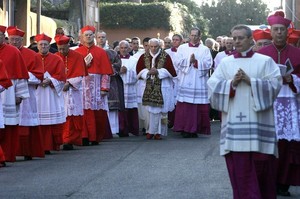 At the ancient
Roman Basilica of Santa Sabina known today as the mother church of the Order of
Preachers, the Pope began Lent with the reception of ashes. The imposition of ashes is not ritualistic sign without meaning: we put ashes on our heads not in contradiction of the Gospel chosen for that day but as a way to remind ourselves that an outward sign conveys an inward reality. He first began the Lenten prayer at the
Benedictine Church of Sant'Anselmo (just down the street from Santa Sabina).
There he gathered with the monks, priests, bishops , cardinals and laity for a
visit to the Blessed Sacrament, brief service of prayer and a procession to
Santa Sabina where Holy Mass was celebrated. Yes, the pope walks the streets of Rome, but in a limited way. It is a gesture full of beauty. This is ancient way for the Roman
Pontiff to lead the Church into a season of penance and preparation for the
sacred Triduum. The Holy Father's homily is below.
We begin today the
liturgical season of Lent with the thought-provoking rite of the imposition of
ashes, through which we wish to take on the commitment to convert our hearts to
the horizons of grace. In general, in common opinion, this time runs the risk
of being marked by sadness, by the darkness of life. Instead, it is a precious
gift of God; it is an intense time full of meanings in the journey of the
Church; it is the itinerary to the Lord's Easter. The biblical readings of
today's celebration give us indications to live this spiritual experience
fully.