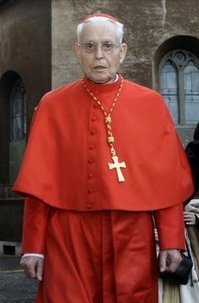 Urbano Cardinal Navarrete Cortés, SJ, 90, died today. The Mass of Christian Burial is scheduled for November 24; the Dean of the College of Cardinals, Angelo Cardinal Sodano will celebrate the Sacrifice of the Mass and His Holiness will preside over the Final Commendation and give a valediction.
His Eminence was a professor of Canon Law, a former rector of the Pontifical Gregorian University, a prolific author and a consultor of the Congregation for Divine Worship and the Disciple of the Sacraments.
In 2007, Pope Benedict created Father Navarrete a cardinal of the Roman Church. He was dispensed of the episcopal dignity. The Pope assigned him the Church of San Ponziano as his titular Church.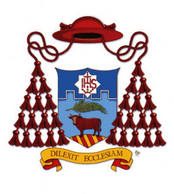 Cardinal Navarrete was a Spanish Jesuit (entering in 1937), ordained priest in 1952. And since 1958 was a professor of Canon Law at the Gregorian, specializing in marriage law, where he also served as dean of the Canon Law faculty.