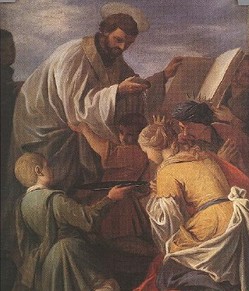 Woe to me if I do not preach the Gospel.
We entered some villages of Christians, who had been baptized about eight years ago. It is an area uninhabited by the Portugese, because of its extreme barrenness and poverty; the native Christians, having no one to instruct them in our faith, know nothing about it save only the face that they are Christians. There is no one to say Mass, no one to teach them the Creed, the Our Father, the Hail Mary, or the Ten Commandments.
Whenever I came to one of these villages I baptized all the children who had not yet been baptized. So I baptized a great number of babies "who did know their right hand from their left" (Jonah 4:11). The children in these villages would not allow me any time to say my office, or to eat or sleep, until I had taught them some prayers. Then I came to realize that "of such is the kingdom of heaven" (Matthew 19:14). As it would been wrong for me to refuse so holy a request, I began with the sign of the cross, then the Apostles' Creed, the Our Father, and the Hail Mary.
I noted that they had considerable abilities and I am quite certain that they would be good Christians if only had someone to instruct them in the holy faith.
Multitudes out here fail to become Christians only because there is nobody prepared to undertake the holy task of instructing them. I have often felt strongly moved to go to the universities of Europe, especially Paris, crying out like a madman, and say to those in the Sorbonne who have more learning than good will to employ it advantageously: "How many souls are missing heaven and going to hell through your negligence?"
If only, while they studied their humanities, they would also study the account that God will demand for the talent he has given them, many might feel the need to engage in spiritual exercises, so as to discover God's will in their hearts and embrace it rather than their own inclinations, saying: "Lord, here I am. What would you have me to do? Send me where you will, if necessary even to India."
An extract of two letters from Saint Francis Xavier to Saint Ignatius of Loyola dated 28 October 1542 and 15 January 1544