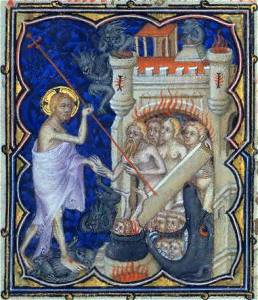 On Great and Holy Saturday the Church contemplates the mystery of the Lord's descent into Hades, the place of the dead. Death, our ultimate enemy, is defeated from within. "He (Christ) gave Himself as a ransom to death in which we were held captive, sold under sin. Descending into Hades through the Cross … He loosed the bonds of death" (Liturgy of Saint Basil).
From an ancient homily for Holy Saturday
Something strange is happening—
there is a great silence on earth today,
a great silence and stillness.
The whole earth keeps silence because the King is asleep.
The earth trembled and is still
because God has fallen asleep in the flesh
and He has raised up all who have slept
ever since the world began.
God has died in the flesh, and hell trembles with fear.