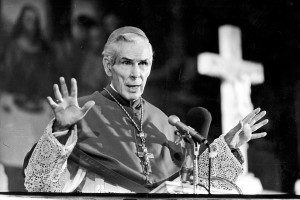 The saga of who gets the body is rather sad. Who would think that the process of getting a person declared a saint in the Catholic Church could get acrimonious? But, in the case of the Venerable Servant of God Fulton J. Sheen it is. Today it was announced that the niece of Sheen, Joan Sheen Cunningham, has petitioned the New York Supreme Court to move the mortal remains of her uncle from the crypt in St Patrick's Cathedral (NYC) to the Peoria, Illinois. Sheen died on December 9, 1979.
"All this focus on the body, the body," Mrs. Cunningham said in an interview last week. "It's forgetting what the purpose of the whole thing is. To keep someone from coming beatified over this, I think, is wrong." Perhaps Cardinal Dolan could speed up the Sheen cause for canonization by ending the court petition now and send the body back to Peoria as requested. He'll get a relic out of the deal anyways. Delaying is a tantamount to ecclesiastical game-playing.
The Diocese of Peoria has published this press release.
More to the story here.