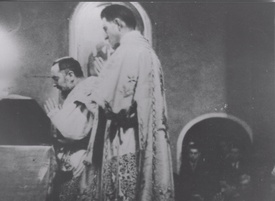 "…the legacy he left is holiness"
God our Father, in Saint Pio of Pietrelcina You gave a light to Your faithful people. You made him a pastor of the Church to feed Your sheep with his word and to teach them by his example. Help us by his prayers to keep the faith he taught and follow the way of life he showed us.
The Vatican biography may be read here.
See more on Saint Pio here.
When thinking about Padre Pio's influence on the spiritual life it can be noted that he advocated 3 things:
1. Pray. And don't be overcome.
2. Conform yourself to Christ crucified.
3. Attend to the sacraments, especially the sacrament of Confession.