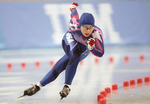 A few weeks ago Yahoo sports posted a story that caught my attention (but I am only now getting around to posting it, sorry) about a former world-class speedskater now on a journey to the vowed life as a Franciscan Sister of the Renewal.

Kirstin Holum, now Sister Catherine, stands out because she was once a high-profile athlete with promise now (she was at the 1998 Olympics in Japan) she's devoting her life to Christ and the Church in a new race outlined by Jesus, Saint Paul, Saint Francis and the Church.
Prayers for Sister Catherine's perseverance and for the Sisters of the Renewal.