The question I am asking myself: is it possible to follow this man? Alternately, Can I even think that it is possible to be a man like Padre Pio, and seek after God without reservation? What Padre Pio has left us is a clear model of holiness and a path to walk. Holiness here is not meant to be an artificial , showy display of piety (beating the breast, hours of Adoration of Eucharistic adoration, days of fasting, no bathing, etc) but it is a way of life where we shed everything that is not ourselves, living in the manner that is coresponds to the way God the Father has educated us through His Son, Jesus (read the NT). Padre Pio's ministerial life as a priest and as a professed Franciscan Capuchin focussed on the sanctification of souls. No greater work needed his attention and energy. The path given us to walk by Padre Pio is one that leads us back to God hearing the words of Jesus: I love you, I have mercy on you no matter what. Three tools to use on this path: prayer, confession and charity. Beauty and joy will shine through our conversation with God and by our love. If you really want to know more about the path Pio gives us, read what the Pope spoke in 2009 when he made a pilgrimage to the relics of Saint Pio: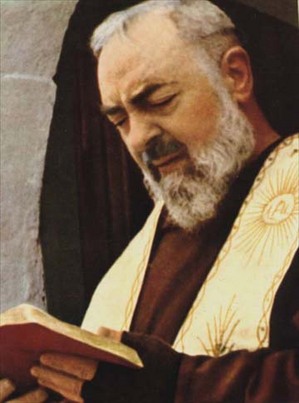 Some saints have lived intensely and personally this experience of Jesus. Padre Pio of Pietrelcina is one of them. A simple man of humble origins, "seized by Christ" (Phil. 3:12) — as the Apostle Paul writes of himself — to make of him an instrument chosen by the perennial power of his cross: power of love for souls, of forgiveness and of reconciliation, of spiritual paternity, of effective solidarity with those who suffer. The stigmata, which marked his body, united him closely to the Crucified and Risen One. A true follower of St. Francis of Assisi, he made his own, like the Poverello, the experience of the Apostle Paul which he describes in his letters: "I have been crucified with Christ and I no longer live, but Christ lives in me" (Gal 2:20), or: "in us death is at work, but in you life" (2 Cor 5, 12). This does not mean alienation, loss of personality: God never annuls that which is human, but he transforms it with his Spirit and he ordains it to the service of his plan of salvation. Padre Pio kept his natural gifts, and even his own temperament, but he offered everything to God, who has been able to freely use them to extend the work of Christ: to proclaim the Gospel, forgive sins and heal the sick in body and spirit.
As it was for Jesus, the real struggle, the radical combat Padre Pio had to sustain, was not against earthly enemies, but against the spirit of evil (cf. Ephesians 6, 12). The biggest "storms" that threatened him were the assaults of the devil, against which he defended himself with "the armor of God" with "the shield of faith" and "the sword of the Spirit, which is the word of God" (Ephesians 6:11,16,17). Remaining united to Jesus, he always kept in mind the depths of the human drama, and because of this he offered himself and offered his many sufferings, and he knew how to spend himself in the care and relief of the sick, a privileged sign of God's mercy, of his kingdom which is coming, indeed, which is already in the world, of the victory of love and life over sin and death. Guide souls and relieve suffering: thus we can sum up the mission of St. Pio of Pietrelcina, as the servant of God, Pope Paul VI said about him: "He was a man of prayer and suffering" (To the Capuchin Chapter Fathers, 20 February 1971).
Pope Benedict XVI
Homily during the 2009 visit to the Shrine of Saint Pio