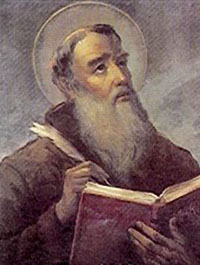 Lord, for the glory of your name and the salvation of
souls you gave Lawrence of Brindisi courage and right judgment. By
prayers help us to know what we should do and give us the courage to
do it.
Friar Lawrence was a brilliant man when it came to language study, knowledge of the Bible, the ability to preach in several languages, keeping balance in the Capuchin order and skillful in exercising leadership diplomacy. Spiritually he had the gift of tears, tongues and ecstacy. His work for God's Kingdom was preaching so that Jews and Protestants would be Catholic.
Saint Lawrence had a supreme belief in the Sacrifice of the Mass (taking up to 16 hours to celebrate the Mass on Christmas day in 1610), he advocated the efficacy of Mary's place in the economy of salvation as a font of mercy, and was a model of Christian virtue. One last interesting, but trivial note for those interested in the Franciscan
way, Friar Lawrence was educated by the Conventuals but joined the Capuchins.
There's got to be a story there.
In 1961, Saint Lawrence joined three other Franciscans friars as a
Doctor of the Church (Saints Anthony & Bonaventure and Blessed John Duns
Scotus) though he is the only Capuchin to have this distinction. He is known as the Doctor Apostolicus (the Apostolic Doctor).
Saint Lawrence's brief biography is found here.
New to me is this Litany of Saint Lawrence of Brindisi.