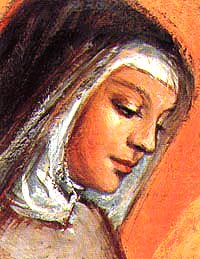 Let us rejoice and shout for joy, because the Lord of all things has favored this holy and glorious virgin with his love.
Heavenly Father, You drew blessed Agnes away from the pleasures of royalty, and through the lowly way of the cross led her on the path of perfection. Grant that in imitation of her we may depreciate transitory things and always strive after those of heaven.
Blessed Agnes is known for her poverty and humility. She was an obedient daughter of the Franciscan charism.
A portion of Blessed Agnes' life and deeds can be
read here
.