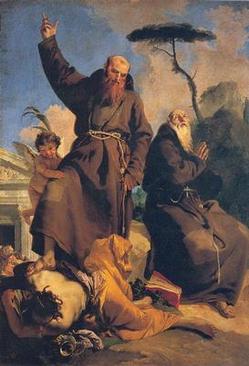 How beautiful on the mountains are the feet of the man who brings tidings of peace, joy and salvation.
Almighty God, You made Saint Joseph an illustrious preacher of the gospel. Through his prayers inflame us with love and with his zeal for souls that we may serve You alone.
One of my friends, Friar John Paul told me about Francesco Saverio Toppi's essay on Saint Joseph of Leonessa (1556-1612) where he says about the saint,
"He had put a lot of time preparing himself for this special assignment [being sent on the Turkish mission]. Among his manuscripts we find page after page on the history and culture of the Moslems and many notes on the languages spoken in Constantinople –Turkish, Greek, Hebrew, German, French and the so-called 'lingua franca,' an international dialect used in Mediterranean ports. In view of the post-Tridentine mentality, it is surprising to find among his notes a method of dialoguing with the Moslems, which was far ahead of his times.
"When dealing with the Moslems," he writes, "one should never start with a discussion of religion. The initiative should be left to them. We must hear them out courteously and attentively when they sing the praises of their own religion, all the while taking mental notes of the weak points of their arguments. Eventually, but with the greatest tact in word and manner, we can reply by pointing out the contradictions inherent in the Islamic faith and moral code."
This reminds me of the saying, "don't talk about religion, politics or money at the table." But I think Joseph is right as far as trying to know what the other thinks. While it might be over-stretching the controlling idea here, but what I see is the proposal of honest friendship being made before telling someone he's wrong. Not a way to influence others. This method lends itself to a more humane way of approaching the other when one is likely to get a better hearing than if you go into "dialogue" with all guns blazing. There's a reasonable-ness in listening…. And remember, this proposal was made in the 16th/17th century by a Capuchin, and not a Dominican or Jesuit!