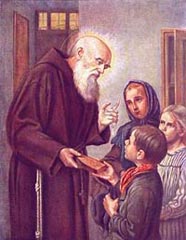 Ask and you shall receive; seek and you shall find; knock and it shall be opened to you, says the Lord, alleluia.
Merciful God, through the service of Saint Conrad You were pleased to open wide to the faithful the portal of mercy. May we pursue his spirit of poverty and humility of heart in serving our brothers [and sisters].
Saint Conrad was known to focus his life by the rule of charity in and out of the Capuchin friary. His daily goal was to remain in the presence of God striving to be free of sin and in constant conversation with God. Hence his devotion to adoration of the Blessed Sacrament which he spent every free moment doing. The 11 Resolutions of a Novice, from which some of these ideas come, are his maxims to orient one's behavior toward the Holy. Besides Mass which was his greatest joy, Conrad had great devotion to the Crucified Lord and Our Lady of Sorrows. Of the latter, he promoted devotion to the Blessed Virgin Mary by distributing rosaries to those whom he encountered in the porter's lounge or on the street.
Saint Conrad is the patron saint of doorkeepers, one of the most important jobs in any home or institution.