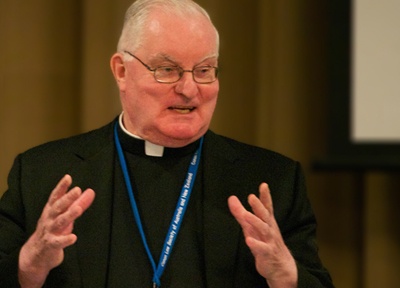 The sad news was sent out among the canon lawyers that the "dean" of canonical study, Father Francis G. Morrisey, O.M.I., died this morning at 9:40 a.m. at Élisabeth Bruyère Hospital, Ottawa.  Father Morrisey had been receiving palliative care for the past several weeks due to a cancer diagnosis. His sister, Joan, was with him at the time of his death.
As one canonist said, "The Church has been enriched by Frank's selfless outpouring and, through the Church, cultures and societies throughout the world have also been enriched. He remains a gentleman esteemed and admired by a plethora of social innovators, church leaders, and professional colleagues. He has shown himself to be a faithful son of Saint Eugene De Mazenod who envisioned bringing healing and hope to the peripheries of Eugene's day. Frank has done the same in today's world."
Father Morrisey mentored many at Saint Paul University, Ottawa. It was  said that he was a brilliant, humble, caring teacher –a priest and servant of the gospel- a colleague, a gentle soul and a friend. He was a great contributor at the annual CLSA convention and at regional canon law conferences.
While I did not know Father Morrisey personally, I had some communication with him through the years and I have used his canonical thought. We all have been enriched by Father's presence and his great humanity. He won a lifetime achievement aware in 2019 which you can read/listen here. Thanks be to God.
Eternal rest, grant unto Father Morrisey O Lord and let perpetual light shine upon him.
May he rest in peace. Amen.
May Father's soul and the souls of all the faithful departed, through the mercy of God, rest in peace.
Amen.
Eternal memory.