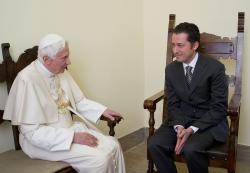 Forgiveness is only possible with God's grace. Pope John Paul II taught us this fact several times with the events of his own life and in Church life. Pope Benedict's papacy has notable grievances that require pardon. Today is a good example with the Pope forgiving the actions of his former butler Paolo Gabriele who leaked to the world the Pope's private letters and arrested on 23 May 2012.
Paolo Gabriele, appealing to a high moral standard, said that he wanted the good of the Church by exposing evil and corruption that he loved the pope and the Church. No doubt Gabriele's actions personally grieved Benedict in a very personal way, by the breaking of trust, it also opened the governance of the Church to harm. A Vatican Tribunal found Gabriele guilty and sentenced him to jail on 6 October 2012.
Paolo Gabriele, 46, is married with three children.
Vatican Radio's Emer McCarthy posted this report. The Holy See's Press Office released the following today: