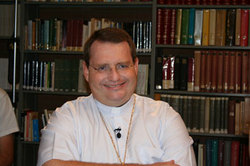 The Cambodian Catholic experience is not something that rolls off our lips at cocktail parties or lunch dates in the USA. But the Asian perspective is needed: how does the Good News get rooted. Notice his points at the end of the post. The rather young bishop, The Most Reverend Olivier Michel Marie Schmitthaeusler, MEP, 42, vicar apostolic of Phnom Penh, Cambodia since 2010 told the Pope and the Synod:
The Khmer Rouge genocide killed bishops, priests, religious persons and the majority of Christians. For twenty years now, we are living a new time of the Acts of the Apostles with a first announcement of the Good News ensured by the small group of survivors, supported by the massive arrival of missionaries. Today we have about 200 adult baptisms each year… The small Church of Cambodia is in some ways a laboratory for evangelization in a Buddhist world, fully entered into a process of secularization driven by globalization a bit like the Asian dragons. The Ad Extra Mission is intimately tied to the Ad Intra Mission. Ad Extra and Ad Intra are mutually enriched by stimulating each other with the same and unique Mission of Evangelization!
Some meaningful points for a first proclamation of Jesus Christ and which may be extended also to a reflection about new evangelization. Two fundamentals: 1. The true encounter with Jesus Christ opens the heart to charity and to the experience of forgiveness to lead to the discovery of the gift of life. 2. The laity are apostles in this world (Apostolicam actuositatem).
How can the Church be the sacrament of Christ in the world for a new evangelization in actions and in truth? 1. A Church that touches the heart. 2. A simple Church. 3. A welcoming Church. 4. A Church in prayer. 5. A joyful Church.