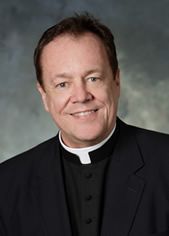 Since our Fr Edward T. Oakes, SJ, died yesterday morning at the Jesuit residence, St Louis, MO, several people have paid tribute.
Pray to Our Lady of the Way and to the Jesuits and beati for Edward T. Oakes' peaceful repose.
Here is a sampling:
John Farrell, "Eloquent Critic Of Creationism Passes Away" (Forbes)
R.R. Reno, "Goodbye, Friend" (First Things)
Thomas G. Guarino, "Edward T. Oakes, S.J.: An Appreciation" (First Things)
Carl E. Olsen, "Fr. Edward T. Oakes, S.J., Requiescat in Pace" (The Catholic World Report blog)
Kevin J. Jones, "Jesuit theologian remembered for scholarship, joyfulness" (Catholic News Agency)
my own, "Edward T. Oakes, SJ -RIP" (Communio)
Some of the articles are mere puff pieces publishing because that's what the establishment does; others say something important. You make a judgement.