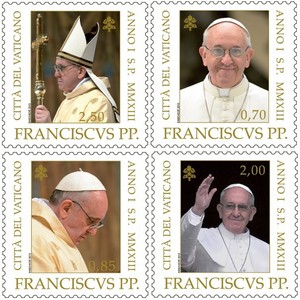 On 13 May 2013, Tarcisio Cardinal Bertone, SDB, the Secretary of State and Archbishop Angelo Becciu, the assistant in the same office, presented the Annuarium Statisticum Ecclesiae (the Church's Statistical Yearbook) to Pope Francis and the rest of the Church.
This annual publication is official document outlining ever imaginable stat one would want to know, and more.
The statistical information in the Church Yearbook refers to the year 2011 which details the Catholic Church in the 2,979 ecclesiastical circumscriptions. That is, the dioceses and other administrations of the Church around the planet.
As already known, the Church is diminishing in Europe and growing in Asia and Africa.
General statistics:
From 2010 to 2011, the number of bishops increased from 5,104 to 5,132;

The steady increase in the number of priests which began in the year 2000 has continued. From 412,236 priests in 2010 to 413,418 in 2011;

The number of permanent deacons registered a strong increase: from 29,000 in 2001 to 41,000 in 2011;

Candidates for the priesthood, diocesan and religious, have increased since 2001 (112,244) by 7.5%. In 2011, there were 120,616 registered;

The number of Catholics in the world increased from 1.196 billion in 2010 to 1.214 billion in 2011, an increase of 18 million faithful.