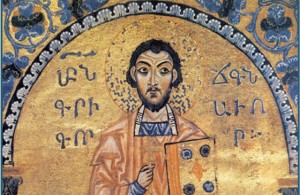 The Catholic Church has a new Doctor –an Armenian saint —Saint Gregory of Narek.
"St. Gregory of Narek is widely revered as one of the greatest figures of medieval Armenian religious thought and literature. Born in the city of Narek in about 950 A.D., St. Gregory came from a line of scholars and churchmen."
Saint Gregory of Narek's feast day in the Armenian Church is October 13.
On the occasion of the 1700th anniversary of the Baptism of the Armenian people (2001) Saint John Paul said of Saint Gregory: "Among these illustrious figures, I would like to recall here Gregory of Narek, who probed the dark depths of human desperation and glimpsed the blazing light of grace that shines even there for believers."
You will note that Saint Gregory, a monk in the Armenian Church, lived at a time when his Church was not formally in communion with Rome and Constantinople. Christian history can be complex to understand.
The Vatican Radio report is here.
The title of "Doctor of the Church" is bestowed on a saint because of his or her contribution to theology or doctrine. There are now 36 Doctors of the Church recognized by the Catholic Church, 4 of whom are women. The Eastern Churches may have a different list for their "Doctors of the Church."