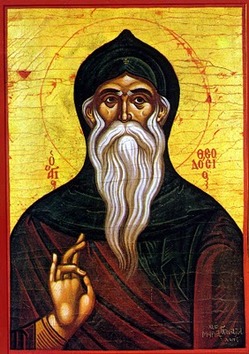 Planted in the courts of your Lord, you blossomed
beautifully with virtue, and increased your children in the desert, showering them
with streams of your tears, O chief shepherd of the divine flock of God. Therefore,
we cry to you: "Rejoice, Father Theodosius." Kondakion – Tone 8
From the hagiography:
Saint
Theodosius the Great lived during the fifth-sixth centuries, and was the
founder of cenobitic monasticism. At the monastery St Theodosius built a home
for taking in strangers, separate infirmaries for monks and laymen, and also a
shelter for the dying. Seeing that people from various lands gathered at the
Lavra, the saint arranged for services in the various languages: Greek,
Georgian and Armenian. All gathered to receive the Holy Mysteries in the large
church, where divine services were chanted in Greek.
St Theodosius accomplished
many healings and other miracles during his life, coming to the aid of the
needy. Through his prayers he once destroyed the locusts devastating the fields
in Palestine. Also by his intercession, soldiers were saved from death, and he
also saved those perishing in shipwrecks and those lost in the desert. Once,
the saint gave orders to strike the semandron (a piece of wood hit with a
mallet), so that the brethren would gather at prayer. He told them, "The
wrath of God draws near the East." After several days it became known that
a strong earthquake had destroyed the city of Antioch at the very hour when the
saint had summoned the brethren to prayer.
Before his death, St Theodosius
summoned to him three beloved bishops and revealed to them that he would soon
depart to the Lord. After three days, he died at the age of 105. The saint's
body was buried with reverence in the cave in which he lived at the beginning
of his ascetic deeds.