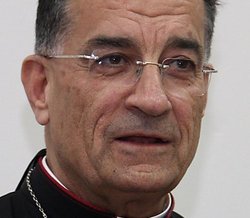 Only 20 years junior to the out-going patriarch, His Beatitude Nasrallah Peter Sfeir, the Maronite bishops elected today Bishop Béshara Raï, 71, as the new patriarch. He's 77th patriarch of the Maronites; Raï takes up the See of St Peter (Peter's first diocese before moving to Rome), adopting the name Peter. He will be known as "His Beatitude, Patriarch Béshara Peter Raï."
He succeeds Patriarch Sfeir after his 25 years of service. It is expected that Patriarch
Béshara Peter
will be enthroned on 25 March.
I am happy for His Beatitude's new opportunity to serve the Church. I met him a number of years ago and he's a wonderful person.
His Beatitude has been a priest for 43 years and a bishop for nearly 25 years and since 1990 he's been bishop of Jbeil (Byblos). In Lebanon, the Maronite Christians number about a third of the 4 million population.