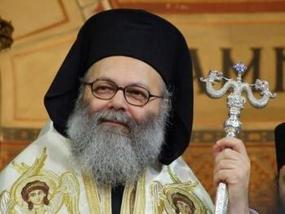 The Greek Orthodox Church of Antioch elected a new patriarch, His Eminence, Metropolitan Archbishop of Europe, John Yazigi, 57. He will be known as John X.
The special synod of 18 bishops gathered for the election following the death of Patriarch Ignatius IV who died on December 5; the synod met at the Balamand Patriarchal Monastery of the Most Holy Theotokos.
Patriarch John was born in 1955 to a Syrian father and Lebanese mother in family of six children. His brother Paul is the Metropolitan of Allepo and his sister is a nun.
Patriarch John X is an Athonite monk ordained a deacon in 1979, a priest in 1983 and a bishop in 1995. In 2008, he was elected to pastoral service in Europe. His education includes degrees in civil engineering, theology, liturgy and music. His skill as an administrator can be seen in his work as Dean of the School of Theology at Balamand twice. John is known to be an exceptional pastor with competencies in the sacred Liturgy and Music; he's a published author and popular speaker.
Blessings on Patriarch John!