The Sunday of the Lord's Passion is upon us. First Vesper's has me thinking of what the Christian life is all about and the horizon to which all Christians are facing: Christ fulfilling the Father's promise of life eternal. We're not talking about a fiction here, but reality.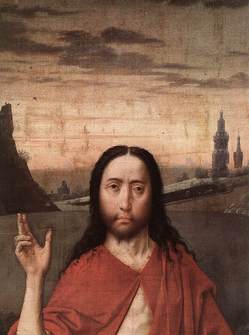 Let God's people then recognize that they are a new creation in Christ, and with all vigilance understand by Whom they have been adopted and Whom they have adopted. Let not the things, which have been made new, return to their ancient instability; and let not him who has 'put his hand to the plough' forsake his work, but rather attend to that which he sows than look back to that which he has left behind. Let no one fall back into that from which he has risen, but, even though from bodily weakness he still languishes under certain maladies, let him urgently desire to be healed and raised up. (Saint Leo the Great, Easter Homily)
But the Son rose again! History is for us the continuity of Christ's resurrection. Every moment of history, by now, is for us the way in which the mystery of the resurrection is accomplished. And at the end of this moment, i.e., at the end of history, the world, everything, everything there is, will be convinced of the intelligence that God has chosen to manifest and the grace that binds us together with which He has filled our hearts.
Do not be afraid; let us not be afraid to serve the Lord, to serve Christ with all the possibility He has given us. (Monsignor Luigi Giussani, March 11, 2003)