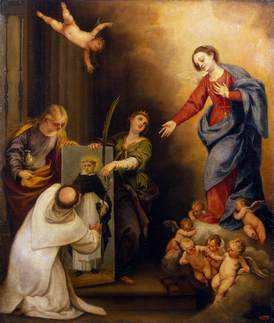 O God, Who has vouchsafed to enlighten Thy Church by the merits and teachings of blessed Dominic, Thy Confessor; grant that through his prayers she may not be left destitute of temporal help, and may continually advance in spiritual growth.
Preach we now the Word of life,
Not with show of worldly learning,
But with fervor of our faith
Open hearts to Spirit's yearning.
Christ alone be ever knowing,
And Him crucified be showing.
Dominic, called by the Lord,
Preaching, teaching, daily blessing,
Living poor and common life,
Contemplation's fruit expressing;
Thus he formed his Preachers boldly,
Showing graces manifoldly.
God the blessed Three in One,
Love beyond all human telling,
Father, Son, and Spirit blest,
Throned in heav'n and with us dwelling,
With the Word of Truth now feed us,
In Your holy ways now lead us.
78 78 88
suggested tune: Liebster Jesu
James Michael Thompson, (c) 2009, World Library Publications