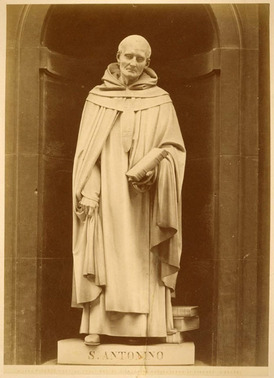 The fear of the
Lord is holy, abiding for ever. The decrees of the Lord are truth and all of
them just.
Eternal God, you blessed Saint Antoninus with a marvelous gift of
counsel. By the help of his prayers while we walk in the darkness of this life,
may we learn from a light of Christ all that we ought to do.
Saint Antoninus (1389-1459) was a Dominican friar was known for his evangelical zeal, holiness, the desire to live the Dominican life with integrity, the desire to attend to the poor, the reconciliation of sinners, and harmonious workings of society, both political and economic. He is the author of several books, including his own Summa theologica. His liturgical memorial is observed today even though on the Roman Maryrology the observance is noted for May 2.
From the Vita
He
required of himself the most unflinching observance of the Rule of his Order,
and never ate meat unless he were grievously ill. He slept upon the ground or
upon bare boards. He always wore haircloth, and sometimes an iron girdle which
bit into his naked skin. His virginity he kept ever undimmed by the last breath
or shadow. He was so skillful in giving advice that he gained the common
nickname of Antoninus the Counselor. At the same time so beautifully brilliant
was his lowliness, that even when he was at the head of houses and provinces of
his Order, he most cheerfully underook all the meanest services of the house
where he was. Eugenius IV appointed him Archbishop of Florence, and he took it
so ill, that it was only when awed by the threats of the Apostolic See that he
obeyed, and accepted the dignity.