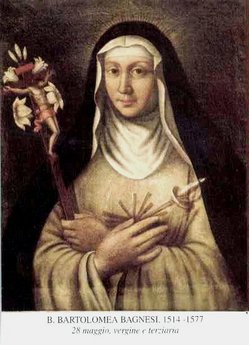 With the Church, we pray:
O God, in Blessed Mary Bartholomew you brought together steadfastness in suffering and innocence of life as we endure many trials may we be helped by your grace.
Blessed Mary Bartholomew Bagnesi (1514- 1577), a Florentine, received the habit of a Sister of Penance, that is, a lay Dominican sister, in 1547. She suffered many physical illnesses for forty-five years which confined to her bed. Despite the consultation with doctors of all stripes, she bore her sickly life filled the pains with courage. She died on this date but for some reason, was buried at the Carmelite monastery in Florence.