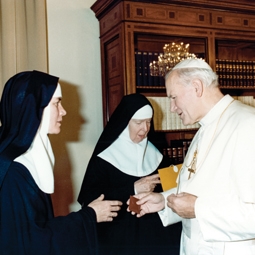 You know from a previous post here that Mother Dolores Hart, OSB, nun of the Abbey of Regina Laudis (Bethlehem, CT) published her autobiography, The Ear of the Heart: An Actress' Journey From Hollywood to Holy Vows (Ignatius Press, 2013). The book is co-authored with lifelong friend Richard DeNeut. There was a book signing this past Sunday.
After a career in acting, Mother Dolores entered Benedictine life Regina Laudis Abbey in 1963. The abbey was founded in 1947.
Joseph Pronechen of the National Catholic Register interviewed Mother Dolores at the Abbey. One of the things worth hearing from Hart is:
The one thing is the Gregorian chant, and what a gift it is to be able to sing and to pray at the same time. I think that I would hate to see people lose that part of the Tradition of the Church, because the chant goes back over a thousand years.
Mother Dolores has been featured on the Communio blog in the past. See a post here and here.