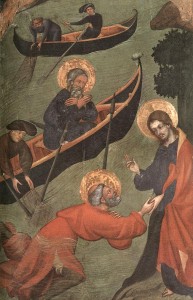 Today's gospel reading in the Missal of Paul VI proclaims Matthew (4:12-23). Two themes emerge from this selection: "Repent, for the kingdom of heaven is at hand" and "I will make you fishers of men." Repentance and discipleship go-hand-in-hand.
The question for us is: to whom do we belong?
Do we actually, concretely, with vigor, belong to Christ? This is the key question for Christians. Belonging means we give our heart in a total way. So often we make a mental reservation, perhaps holding back just in case we are invited to something else. What is proposed by Jesus is that everything is given to him: our work, our lack of faith, the desire of our hearts, our anxiety, our sinfulness in need to metanoia, etc. Like Saint Therese the Little Flower taught, we start first with doing the little things with love. There is our dignity as a child of the Lord.
I am thinking of what Pope Benedict said about discipleship: "faith does not simply provide information about Who Christ is; rather, it entails a personal relationship with Christ, a surrender of our whole person with all our understanding, will and feelings, to God's self-revelation." And, in his final audience, Benedict called us to a radical point in faith by reminding us that "The barque of the Church is not mine, not ours, but His." Our life belongs to Christ whether we know it or not.
Saint Eusebius has this to say about following Jesus: "Reflect on the nature and grandeur of the one Almighty God who could associate himself with the poor of the lowly fisherman's class. To use them to carry out God's mission baffles all rationality. For having conceived the intention, which no one ever before had done, of spreading his own commands and teachings to all nations, and of revealing himself as the teacher of the religion of the one Almighty God to all humanity: he thought good to use the most unsophisticated and common people as ministers of his own design. Maybe God just wanted to work in the most unlikely way. For how could inarticulate folk be made able to teach, even if they were appointed teachers to only one person, much less to a multitude? How should those who were themselves without education instruct the nations?…When he had thus called them as his followers, he breathed into them his divine power, and filled them with strength and courage. As God himself he spoke God's true word to them in his own way, enabling them to do great wonders, and made them pursuers of rational and thinking souls, by empowering them to come after him, saying: 'Come, follow me, and I will make you fishers of men'."