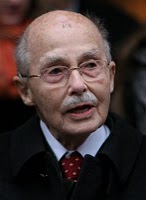 Archduke Franz Joseph Otto Robert Maria Anton Karl Max Heinrich Sixtus Xavier Felix Renatus Ludwig Gaetan Pius Ignatius von Hapsburg, 98, died July 4, in his sleep at his home. His Imperial Highness was the eldest son of the last Austian-Hungarian emperor, Charles I. The Empire, ruled by the Habsburg family since the 13th century disintegrated following World War I.
Archduke Otto was well-regarded as a statesman of modern Europe, particularly supporting the notion of the European Union.
By tradition, the Archduke's body will be buried, next to his wife, Regina, in the Capuchin Church in Austria and his heart will be buried in Hungary at the Benedictine Royal Abbey of Pannonhalma.
Archduke Otto is survived by his seven children