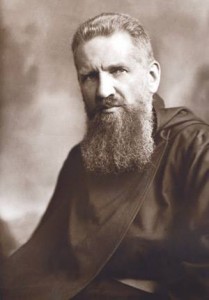 The Stamford Eparchy writes, "In the afternoon of 16 July 2015, Pope Francis received in a private audience the Prefect of the Congregation for the Causes of Saints, Cardinal Angelo Amato. During the audience, the Holy Father approved decrees recognizing the heroic virtues of several Servants of God. The first among these was Andrey Roman Alexander Maria Sheptytsky (1865–1944), Metropolitan-Archbishop of Lviv-Halych.
This formal declaration represents one of the penultimate stages in the beatification process. Once a miracle attributed to the intercession of Sheptytsky is formally recognized, Kyr Andrey will be declared a Blessed of the Universal Church.
The cause for his beatification had been introduced in 1958. With this declaration, the "Servant of God" becomes "Venerable" Andrey.
___
The new Venerable Servant of God was born Roman Aleksander Maria Sheptytsky on July 29, 1865, in Prylbychi near Lviv. When he entered the Basilian Order took the name Andrey. Father Andrey was elected the major archbishop of the Ukrainian Catholic Church at the age of 36 and he known to have quickly recognized as a social and cultural leader in a period of great political uncertainty. He died November 1, 1944, just four months after the Soviets took control of Lviv. Paris-based Bishop Borys Gudziak said,  "His social teaching, his fine, subtle and prophetic voice allowed the church to survive." He also said, "Born into an aristocratic family, the archbishop used his resources to create a free clinic, provide countless scholarships and help victims of famine, flooding and war. He personally lived a life of poverty."
___
Prayer for Beatification of Servant of God Metropolitan Andrew Sheptytsky
O My God, I adore Your infinite Majesty with all the powers of my soul. I thank You for the graces and gifts which You did bestow upon Your faithful Servant Metropolitan Andrew Sheptytsky. I ask You to glorify him also on earth with evident proofs and miracles.  For this end I beseech You to give me the favor [mention the intention], which I humbly ask from Your Fatherly mercy. O Lord Jesus Christ, through the intercession of Your Mother grant that Your faithful Servant Metropolitan Sheptytsky be proclaimed a saint for the greater glory of God, for the salvation of souls and the good of our Catholic Church. Amen.