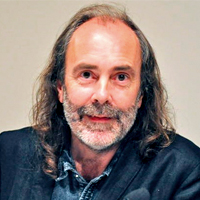 John Waters, an Irish journalist who follows Communion and Liberation, gave this personal witness to the gathering of ecclesial movements with Pope Francis, "The Modern Cross that Brings Us to our Knees" (May 18, 2013).
John is known to many of us in the USA because of his presence at the annual New York Encounter and because of his reflections in Traces magazine, or just because his writing finds a place on the online journal, Il Susidiario. John knows the reality of sin, evil , despair, and isolation. He knows what it means to be at bottom as a result of alcohol abuse. John is a very good man who knows what it means to be a fragile human being sustained by the grace of God and by friendship. Whatever way you come to know John Waters, you ought to know that he lives his life one-day-at-a time in God's grace. Some days the cross is heavy, and yet there are people good people who help to carry the burden of the cross.
We live, my friends, in deceptive times. In the past, man strove for perfection, knowing it was unattainable in this reality. Guided by certain faith in a loving Creator, on whom he remained dependent, man reached for the stars, not expecting to touch them, but understanding that the act of reaching allowed him to become fully himself.
Today, mankind strives for omnipotence, believing this obtainable. Consequently, man feels overwhelmingly alone – that everything depends on his own efforts.
The delusion thus fostered afflicts us all. It invades our minds and changes how we think and feel. And sometimes we feel -in spite of ourselves – that we ought not to need God. Not, I stress, that we don't need Him, but that we OUGHT NOT to need Him.