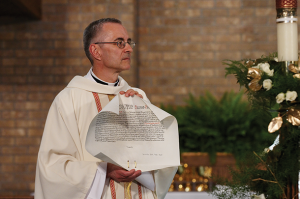 "I've developed a great appreciation for the writings of Monsignor Luigi Giussani, founder of Communion and Liberation, a mostly lay movement that began in Italy. I meet regularly with people in this area who are interested in following its charism. It's based on the encounter with Christ that one has by the very fact that Christ took on our flesh and became one of us to show us the way back to God."
Bishop-elect Steven Raica
Gaylord, MI
This past week the Holy Father appointed Father Steven John Raica, priest and Vicar General and Chancellor of the Diocese of Lansing, MI, as the fifth bishop of Gaylord, MI. The Diocese of Gaylord is one of the newer dioceses in the USA having been established by Pope Paul VI on July 20, 1971.
For several years Father Raica, 61, has been following the ecclesial movement of Communion and Liberation and the various gestures of CL, including the annual gathering called the New York Encounter.
All of us are full of joy with the news of Father Raica being made a bishop, and a brother who makes the journey of faith in the companionship of Communion and Liberation.