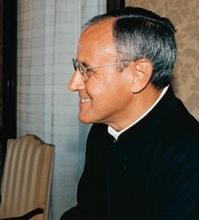 Father Julián
Carrón, the head of the Fraternity of Communion and Liberation, gave this message for Christmas. He writes from Milan, Italy.
In the mystery of the Incarnation, man and history
"That Christianity
gives joy and breadth is also a thread that runs through my whole life.
Ultimately someone who is always only in opposition could probably not endure
life at all" (Light of the World, part 1). These words of Benedict XVI
challenge us to ask ourselves what it means to be Christians today. Continuing
to believe simply out of devotion, habit, or tradition, withdrawing into one's
shell, does not meet the challenge. Similarly, reacting strongly and going on
the offensive in order to recover lost territory is insufficient; the Pope even
says that it would be unendurable.
Neither path -withdrawing from the world or opposing it- are capable of
arousing interest in Christianity, because neither respects what will always be
the canon of the Christian announcement: the Gospel. Jesus entered the world
with a capacity to attract that fascinated the people of His time. As Péguy
said, "He did not waste His years groaning and demanding explanations of the
wickedness of the times. He cut through … making Christianity." Christ
introduced into history a human presence so fascinating that anyone who ran
into it had to take it into consideration, had to reject it or accept it. No
one was left indifferent.