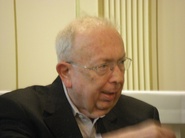 Monsignor Lorenzo Albacete, the ecclesial assistant for Communion and Liberation in the USA, published in the Italy-based online magazine, Il Sussidiario, an appreciative article on this coming weekend's New York Encounter, a faith and culture festival.
The program: NY Encounter Program 2011.pdf

A few years ago, I accompanied Peter Beinart, then editor of The
New Republic to the "Meeting for the Friendship Among Peoples" in Rimini,
Italy, the event inspired by the charisma of Msgr. Luigi Giussani, founder of
Communion and Liberation. The New Republic has been and is still the journal of
intelligent liberalism in the United States. As editor, Peter was, in a certain
way, the voice of American progressive thinking. After we returned to the
United States, I asked Peter to write down his impressions of the Meeting so we
could publish it in Traces. He agreed, and wrote a piece in which he concluded
that such an event was not possible in the United States because of the
cultural clashes taking place in our country.