Fraternity of
St. Charles Borromeo is celebrating their 25th anniversary as a
congregation of priests. The Fraternity is a new community of priests in the Church, founded by Monsignor Massimo Camisasca in 1985. It was signed into Church law in 1999 by Pope John Paul II as a Society of Apostolic Life. On Saturday, February 13, His Holiness Pope Benedict
XVI met with the Fraternity's
founder, leadership and seminarians. Here's the text of the Pope's address
to members of the Fraternity.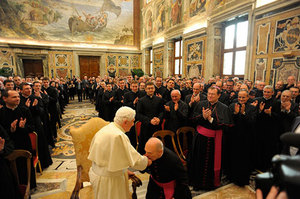 It is with real joy that I meet with you, priests
and seminarians of the Fraternity of St. Charles, who have gathered here on the
occasion of the 25th anniversary of its birth. I greet and thank the founder
and superior general, Monsignor Massimo Camisasca, his council and all of you,
relatives and friends who are part of the community's circle. I greet in
particular the Archbishop of the Mother of God of Moscow, Monsignor Paolo
Pezzi, and Don Julián Carrón, president of the Fraternity of Communion and
Liberation, which symbolically expresses the fruits and the roots of the work
of the Fraternity of St. Charles. This moment brings back to my mind my long
friendship with Monsignor Luigi Giussani and bears witness to his charisma.