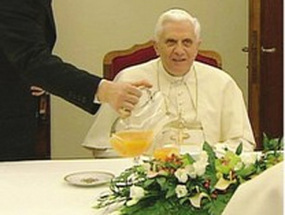 The pope's household –the Pope's family– gets a fourth assistant with Rossella Teragnoli. She joins three other Memores Domini women, Loredana, Carmela and Cristina.
Rossella Tereganoli comes from Soresina in the Italian Province of Cremona. She will take up the duties formerly done by the late
Manuela Camagni
who died in November as the result of a car accident.
Memores Domini
is the consecrated lay group of men and women who live a life of virginity, obedience and poverty living in community and active in the world. Memores Domini is not a religious order but a new way of total dedication to God. The Memores are part of Communion and Liberation.
But the Pope doesn't only work with the Memores Domini but he also is assisted by Birgit, a consecrated lay woman who belongs to the Schoenstatt movement.
More detail on the papal household is
found here
. If you are interested, the Pope answers Peter Seewald's question about his life in the Apostolic Palace in his recent interview,
Light of the World
.