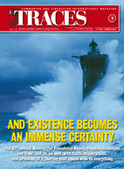 Great news with you: Traces is now available for iPad users and users of Apple's latest OS, Lion. All that is necessary is to go to the App Store and enter "Traces" and you will find it.
There are many, pretty obvious, advantages to this new form, including receiving Traces as soon as it's published, paying less for a subscription and the ability to easily tell friends who have an iPad.
I hope all of you Apple and iPad users will sign up, immediately, and tell your friends!