Nearly 900 years ago Bernard of Fontaine-lès-Dijon led
a group of young Burgundian noblemen, to the Abbey of Cîteaux in 1112 or 1113. The fledgling
new monastery got a burst of new life and from there set the world ablaze with
what became the Cistercian charism.
Let us pray for the Cistercians in the
North America, paying particular attention to the intention of young men and women entering the
monastic life under the gaze of Saint Bernard. Beginning today until a year from now, the Cistercians are observing a Year of Saint Bernard. Let's join them in knowing more about this pivotal saint and monk.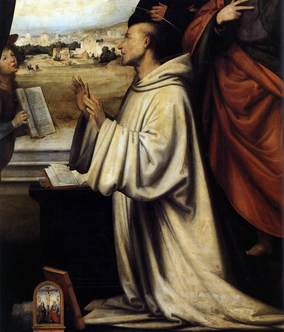 Most loving Father, in establishing
the New Monastery at Cîteaux our fathers followed the poor Christ into the
desert. Thus they lived the Gospel, by rediscovering the Rule of Saint Benedict
in its purity.
You gave Bernard of Fontaine the ability to make this new life
attractive and appealing to others, in the joy of the Holy Spirit.
Grant that
we today, after their example, may live our charism deeply in a spirit of
peace, unity, humility, and above all, in the charity which surpasses all other
gifts.
May men and women of our time be called to follow the Gospel in monastic
life, in the service of the Church's mission, in a world often forgetful of
You.
May the monks and nuns of our Order continue to live in the
enthusiastic and generative spirit of the founders. And in all of our needs may
we always turn to Our Lady whom Bernard called the Star of the Sea.
Holy
Father, from whom we have already received so much, grant us again your
blessing that our communities may grow in numbers, but above all in grace and
in wisdom, to your glory, who are blessed for ever and ever. Amen.
Prayer adapted from the original by Dom Olivier, abbot of Citeaux.