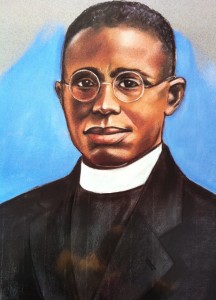 Today is the Feast Day of Blessed Cyprian Michael Iwene Tansi. In the USA we don't liturgically have Blessed Cyprian on the calendar, but we ought to know about him and follow his example. First a secular priest and then a Trappist monk Tansi has a unique vocation of looking at both the interior life and the apostolate with new eyes. He is Nigeria's patron saint.
Born to non-Christian parents in September 1903, Blessed Cyprian Michael Iwene Tansi was born in Aguleri, Anambra State, Nigeria. In 1909, he was sent to live with his uncle who was a Christian gave him an education. He was baptised 3 years later by Irish missionaries. Tansi was a diligent student with a precocious personality and deep piety. He worked as a teacher for 3 years and later served as a headmaster of St. Joseph's school for one year in Aguleri.
In 1925 against the wishes of his family, he entered St. Paul's Seminary in Igbariam and was ordained a priest in the Cathedral of Onitsha on 19 December 1937.
For a time Tansi worked tirelessly in the parishes of Nnewi, Dunukofia, Akpu/Ajali before discerning vocation to be a Cistercian monk at Mount Saint Bernard Abbey, Leicester, England. He lived this vocation at the abbey for 14 years. He was in the process of discerning becoming the novice master in a new Cistercian foundation in Cameroon, a few months after the founders left for Africa.
Father Tansi used to say, "if you are going to be a Christian at all, you might as well live entirely for God".
He died on 20 January 1964 and was beatified on 22 March 1998 by Saint John Paul in Nigeria. The Pope said of Father Cyprian:
He was first of all a man of God: his long hours before the Blessed Sacrament filled his heart with generous and courageous love. Those who knew him testify to his great love of God. Everyone who met him was touched by his personal goodness. He was then a man of the people: he always put others before himself, and was especially attentive to the pastoral needs of families. He took great care to prepare couples well for Holy Matrimony and preached the importance of chastity. He tried in every way to promote the dignity of women. In a special way, the education of young people was precious to him.
A prayer to the Blessed:
Blessed Cyprian, during your life on earth you showed your great faith and love  in giving yourself to your people and by the hidden life of prayer and contemplation. Look upon us now in our needs, and intercede for us with the Lord. May he grant us the favour we ask through our prayers. Amen.
A few resources to consult on Blessed Cyrpian:
Fr. Gregory Wareing, A New Life of Father Cyprian Michael Iwene Tansi (Coalville, Leicester LE6 3UL: Mt. St. Bernard Abbey. 1994). Father Gregory was Blessed Cyprian's Novice Master.
Veronica Onyedika Chidi Umegakwe, Footprints of Father Tansi: The Tomb is not his Goal (Awhum, Nigeria: Our Lady of Calvary Monastery, 1993). The life of Blessed Cyprian is here presented in a five act play by the chief coordinator of the Father Tansi Lay Contemplative Prayer Movement.
Elisabeth Isichei, Entirely for God. The life of Cyprian Michael Iwene Tansi (Kalamazoo: Cistercian Studies Series 43, 1980 and 2000).
Dom John Moakler, "Some Thoughts about Blessed Cyprian Tansi" in Hallel 25 (2000), pp.79-93.