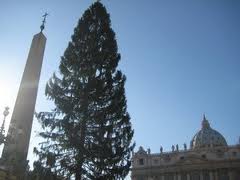 My mother and the neighbors have had the Christmas tree up for a week. We've got three small trees. In fact, my neighborhood is alighted with Christmas lights. New York's Rockefeller Center Christmas tree was lit last week with several stars entertaining us with "Christmas songs." The Vatican put its Christmas tree, a gift from the good people of Bolzano, Italy (a German speaking of Italy where Pope Benedict has vacationed in the past) A little too early for my tastes. SO, it MUST be Christmas time!!! What does it all mean? But what does the Christmas tree stand for? How ought the Christmas tree be interpreted by the Catholic?
The Christmas tree began as a reminder of the tree of life and the life-giving cross of Jesus Christ. When you see the evergreen Christmas tree you will also see the life-giving tree of life on which Jesus hung as our crucified savior.
For those interested, a short history is helpful.