Christ draws us to Himself through beauty. Beauty in the sacred Liturgy, in music, words, human gesture, the human body, indeed, through His own birth. Here the Pope tells us again that the birth of the Savior, the Incarnation of the Word, i.e., God, really happened in history; it is a fact, not a legend or a pious myth. The birth of Jesus is not "a just nice" story and it is normative for all of humanity, all of history. The following is Pope Benedict XVI's homily given tonight at Saint Peter's Basilica, Vatican City State, Rome.
Dear Brothers and Sisters!
"You are my son, this
day I have begotten you" with this passage from Psalm 2 the Church begins
the liturgy of this holy night. She knows that this passage originally formed
part of the coronation rite of the kings of Israel.
The king, who in himself is
a man like others, becomes the "Son of God" through being called and
installed in his office. It is a kind of adoption by God, a decisive act by
which he grants a new existence to this man, drawing him into his own being.
The
reading from the prophet Isaiah that we have just heard presents the same
process even more clearly in a situation of hardship and danger for Israel:
"To us a child is born, to us a son is given. The government will be upon
his shoulder" (Is 9:6).
Installation in the office of king is like a
second birth. As one newly born through God's personal choice, as a child born
of God, the king embodies hope. On his shoulders the future rests. He is the
bearer of the promise of peace.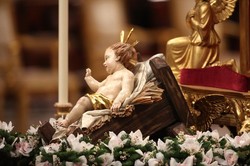 On that night in Bethlehem this prophetic
saying came true in a way that would still have been unimaginable at the time
of Isaiah. Yes indeed, now it really is a child on whose shoulders government
is laid. In him the new kingship appears that God establishes in the world. This
child is truly born of God.