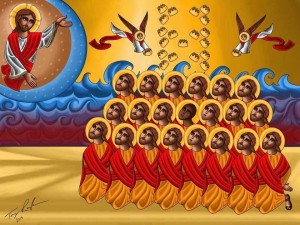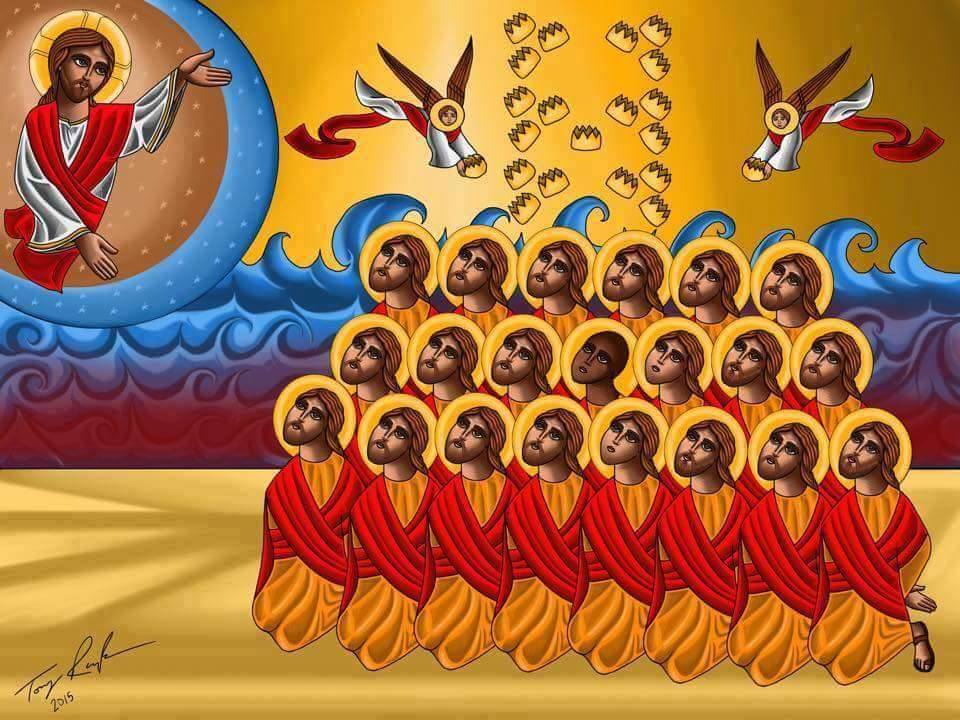 The Coptic Orthodox Church announced that they recognize the 21 men killed last week in Libya by ISIS as martyrs and their have names have been inscribed into Coptic Synaxarium. This was an ecclesial act, similar to the Latin Church's canonization, by Coptic Orthodox Pope Tawadros II.
A  Synaxarium is the equivalent to the Roman Martyrology for the Eastern Churches (each of the church has its own list of saints). As one commentator said, the 21 Egyptian martyrs are not merely for the Copts, but for all Christians. Their witness to the Christian faith is critical for all of us who find it difficult to bear the burden of Christ's Paschal Mystery.
The Coptic Orthodox Pope stated that the martyrs will be commemorated on the 8th Amshir of the Coptic calendar, or February 15th of the Gregorian calendar. The commemoration falls on the feast day of the Presentation of Jesus at the Temple.
Something Tertullian said comes to mind:
"Kill us, torture us, condemn us, grind us to dust; your injustice is the proof that we are innocent. Therefore God suffers that we thus suffer…. a taint on our purity is considered among us something more terrible than any punishment and any death. Nor does your cruelty, however exquisite, avail you… The more often you mow us down, the more we grow in number; the blood of Christian martyrs is the seed of the Church."
~ Tertullian in "Apologeticum (The Apology)" – writing in Carthage, North Africa c. 200 AD
The 21 martyrs are not vague group of men; each has a name and genealogy:
1. Milad Makeen Zaky
2. Abanub Ayad Atiya
3. Maged Solaiman Shehata
4. Yusuf Shukry Yunan
5. Kirollos Shokry Fawzy
6. Bishoy Astafanus Kamel
7. Somaily Astafanus Kamel
8. Malak Ibrahim Sinweet
9. Tawadros Yusuf Tawadros
10. Girgis Milad Sinweet
11. Mina Fayez Aziz
12. Hany Abdelmesih Salib
13. Bishoy Adel Khalaf
14. Samuel Alham Wilson
15. Worker from Awr village
16. Ezat Bishri Naseef
17. Loqa Nagaty
18. Gaber Munir Adly
19. Esam Badir Samir
20. Malak Farag Abram
21. Sameh Salah Faruq